After 00, children want to use products with ideas and personality. Most children's furniture is still in the form of "innocent" and display; after 80 parents hope to give children a safe and environmentally friendly living space, some children's furniture However, the new standard has not been seen in the Eyes, and I still sell my unqualified products. People hope that the children's room will be more practical and more reasonable, but most children's furniture will turn a blind eye to this, lacking the overall matching service, let the children Room to accommodate children's furniture...
Shape - difficult to hide childish lack of features
Ms. Cheng, the consumer, said that the daughter who is about to graduate from elementary school has a high demand for furniture in her room. She does not like the design of children's furniture that is too naive in the market. In the face of the buyer's dissatisfaction, a well-known children's furniture brand leader told the author last year that their new products in 2013 will be more mature. However, a year later, when I walked into the exhibition hall again, I found that "colorful" and "various styles" are still the biggest features of their products.
"My son wants to buy attractive and practical furniture. This is what he asked us after browsing the homepages of various countries." Mr. Jing and his 15-year-old son visited the children's furniture brand in Beijing and ended up with no results. When I visited, I found out that I loved my family, I loved my family, hi Mengbao, colorful life and the appearance of children's furniture such as Columbini. It was not too immature, it was similar to adult furniture, and the homogenization phenomenon was serious.
Why is the appearance of domestic children's furniture not improving much over the years and unable to keep pace with the growth of young people in the new era? For the problem that most consumers are puzzled, an unidentified children's furniture industry insider said that the domestic children's furniture industry lacks professional design. Teacher, most people are busy copying and restructuring, spending money to make original food and not enough. Completing a 100% original furniture designed according to the shape, preferences and living habits of Chinese children is 20% to 30% higher than the cost of remanufacturing an imported product, but it can be loved by consumers but it is still pending. Most children's furniture manufacturers have been escaping the pressure they face.
Essence - difficult to achieve loyalty does not meet the standard
Last weekend, the author's visit resulted in the fact that most children's furniture brands are not highly compliant with the new standards for children's furniture. In fact, China's first children's furniture standard "General Technical Conditions for Children's Furniture" has been officially implemented since August 1, 2012, just one year. According to the state regulations, the mandatory national standard implementation buffer period is six months, which means that children's furniture produced after February 1, 2013 must comply with the new standard. However, manufacturers have not paid enough attention to the new standards and the internal and external factors such as the lack of supervision by the market and related functional departments. As a result, domestic children and adolescents still cannot use enough safe furniture products.
The author sees in the children's furniture exhibition halls such as I love, I love my family and Ximengbao, most of the corners of the bed and the large cabinet are rounded, but the sharp corners of the desk, side and small lockers , still exists in publicity. "The manufacturers have not had time to replace the qualified products in the exhibition hall." "There is a need for new equipment for the rounded corners. The manufacturers may not have adjusted the production line yet." "Half of the people who buy furniture will not mind, they are used to products without standards" . In the process of chatting with the shopping guide, the author found that the original consumer demand for the product is also a "accomplice" of the business regardless of the standard.
Dressing - difficult to cover the cheesy display of the primary
The biggest feeling of visiting the children's furniture showroom is chaos. For parents who have experience in purchasing adult furniture, the children's furniture showroom is slightly childish and lacks freshness in terms of furniture placement, layout and style guidance.
In fact, in order to make consumers buy convenience, after a round of adjustment, some large agents have concentrated their children's furniture brands, for example, agents Fulaisha, Laverta Lifetime and Mannich manis- Scandinavia, which imports furniture such as h, transformed the North Fourth Ring store into an imported children's furniture experience hall, and arranged dozens of Nordic-style children's room model rooms for children and parents to experience. The top 100 furniture Harry Wooden House children's furniture also uses a variety of products, arranged a number of small model rooms, for consumers to arrange children's room to make suggestions. Although there is no such thing as a stylish and well-matched model room in an adult furniture showroom, it is gratifying to note that there are people working hard on the road from immature to mature.
Of course, there are still most children's furniture brand showrooms, almost returning to the most original furniture exhibition model. The author saw it in a home store near the North Fourth Ring. Although I liked it in the exhibition hall that I loved and loved my family, the styles and styles of the products in different partitions were similar, and the tables and chairs were also placed in a pattern. Together, it is difficult for consumers to find inspiration from them. In the Ximengbao exhibition hall, the two beds are sold in one partition, and the color and style of the furniture are almost the same. "It's so boring to go around." Ms. Liu, who just stepped into the store and looked away from her, turned away and said to the author.
After-sales - difficult to show lack of service
Want to give children custom furniture, businesses are called "no way"; let the shopping guide give some purchase advice, hear only a rigid product brief; want the brand to give their own design according to their children's room and its product features, the answer is "There is no designer"... The consumer demand of the owners is undergoing a radical transformation, but the pace of the children's furniture brands has not kept up, farther and farther.
"We have a lot of new products every year, and old products that sell well will continue to be produced. Consumers will only choose more and more." A well-known children's furniture brand CEO is full of interviews with their own products. confidence. However, he did not realize that what consumers want is "quality" and not "quantity".
"There are hundreds of products in the exhibition hall. How do I find out the furniture that best matches my child's preferences, interior style and bedroom layout within a few days?" The ideal scene for most consumers to choose children's furniture is: every brand has A resident designer, as long as the house plan is handed over and then informed of their needs, the designer can use the brand's featured products to plan a beautiful and practical children's room. If you are satisfied, you can place an order directly to order the products in the design. However, at present, all children's furniture brands on the market cannot provide this service.
[Opinion] Children with poor professionalism are worried
After many visits, the reporter found that the lack of professionalism is the biggest concern of the children's furniture industry. Tables and chairs, beds, mattresses, and even storage products, if you want children to develop good habits and healthy posture from childhood, tailor-made "professional" children's furniture is responsible. However, it is not easy to buy professional children's furniture for the children in the market today.
In fact, domestic children's furniture has not found a way to go, and staying in homogenization competition and price competition is still the way they are going. Qi Guoqing, general manager of A home, said that the lack of design talents and the control of production costs are two obstacles that hinder domestic children's furniture manufacturers from doing "professional". Zhang Ke, general manager of Huari Furniture Blue Tribe Children's Furniture, also bluntly said that domestic children's furniture manufacturers have to suffer many setbacks on how to meet the needs of children after 00 and post-80s parents, but they must upgrade themselves. Zhou Dayong, the general manager of Scania, who has been an agent for importing children's furniture for many years, believes that it is also a good way to "steal the teacher" from foreign products and then gradually move toward originality according to the needs of the Chinese. But it is not advisable to turn "stealing a teacher" into a habit and the future. In addition, China's relevant standards for children's furniture professionalism should also be introduced as soon as possible.
Makeup for eyes, those products mainly include eye liner, Mascara, Eyeshadow, and other related product.
Its mainly for protect the eyes. Its looks more beautiful and shining after the product using, also can keep the long lasting and waterproof.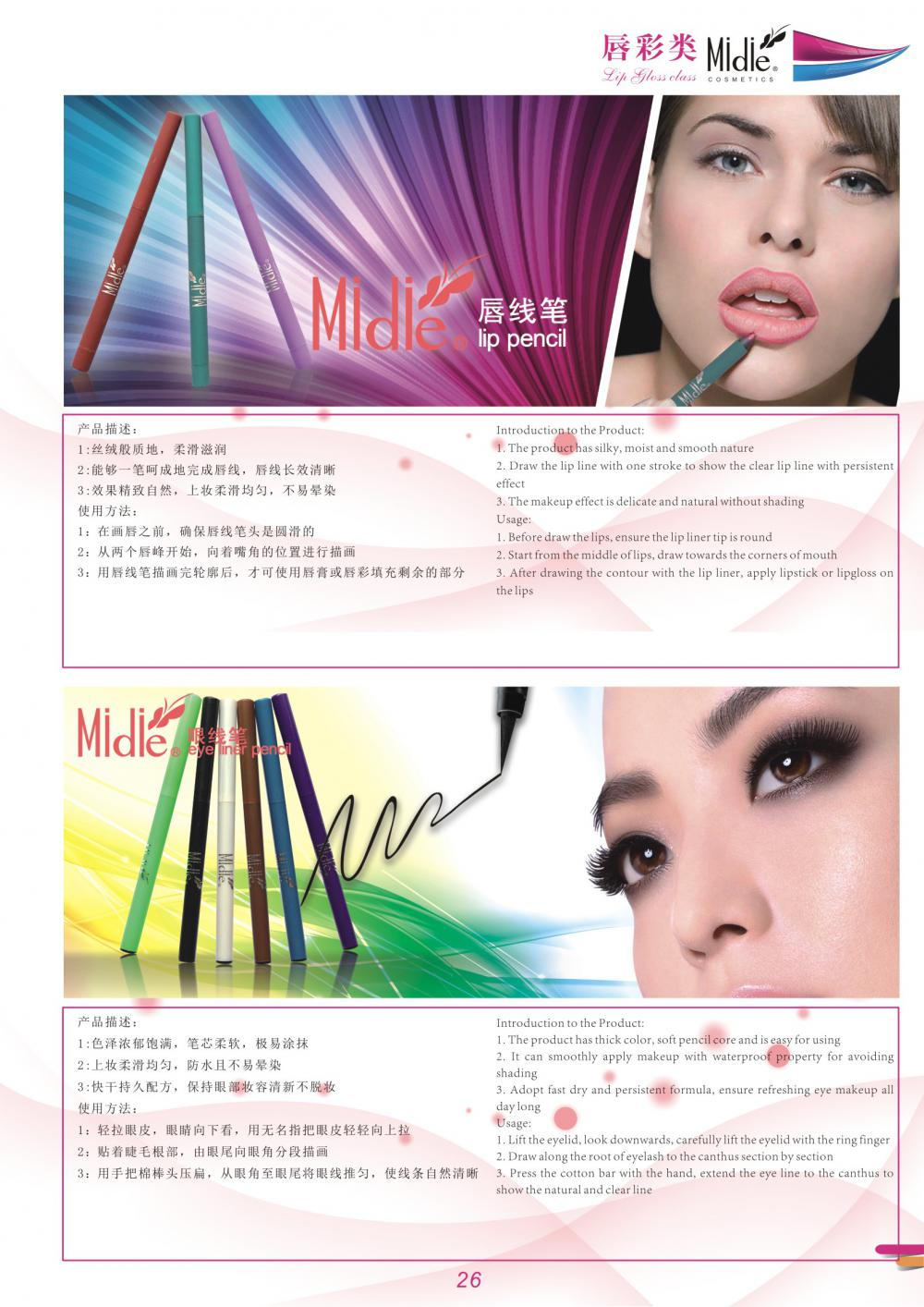 Eyes
Color Makeup for Eyes, Color Eyeshadow, Gel Eyeliner, Liquid Eyeliner, Mascara, Eyebrow Gel
Zhejiang Zhongyimei Industry Co., Ltd , https://www.queeeny.com